Ramadan Mubarak From MAS Family to yours!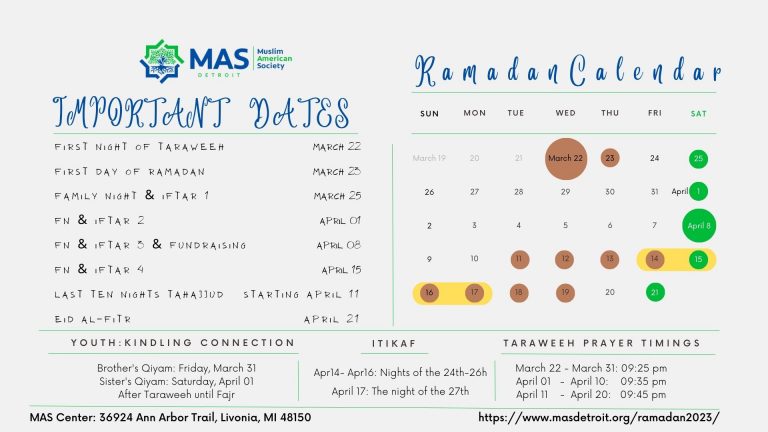 Friday Prayer 
Every Friday 01:30 PM, starting Friday, March 24th, 2023.
Taraweeh Prayers
Every night starting Wednesday, March 22nd, 2023.
Mar 22 – Mar 31: 09:25 pm
Apr 01 – Apr 10: 09:35 pm
Apr 11 – Apr 20: 09:45 pm
Youth: Kindling Connection
Brother's qiyam: Friday, March 31st starts after Taraweeh until Fajr.
Sister's qiyam: Saturday, April 1st starts after Taraweeh until Fajr.
Join the first ever youth qiyam at the new MAS Center! Experience a spiritual retreat during the holy month with your brothers and sisters. The program will include suhoor food cook-offs, sports and, most importantly, spiritual boosts. Registration Required!
Tahajjud Prayers
Last ten nights of Ramadan 03:45 AM, starting Tuesday, April 11th, 2023.
I'tikaf Weekend Retreat (Registration Required)
Nights of the 24th-26h: Friday, Apr 14, Saturday, Apr 15, and Sunday, Apr 16
The night of the 27th: Monday, Apr 17, 2023
Fundraising Dinner
Saturday, April 8th, 2023, from Maghrib to Isha.
With Guest Speaker: Imam Mika'il Stewart Saadiq
Family Nights & Weekly Iftar
Every Saturday starts 06:00 PM
Saturdays: Mar 25, 2023; Apr 01, 2023; Apr 08, 2023; Apr 15, 2023.
Experience Ramadan with your family and ours with Iftar, Night Prayer, Reflections, and Story Time!
Registration Required. Nominal fees $20 per family! 
Want an opportunity for extra reward?
Consider donating for Iftar Sponsorship